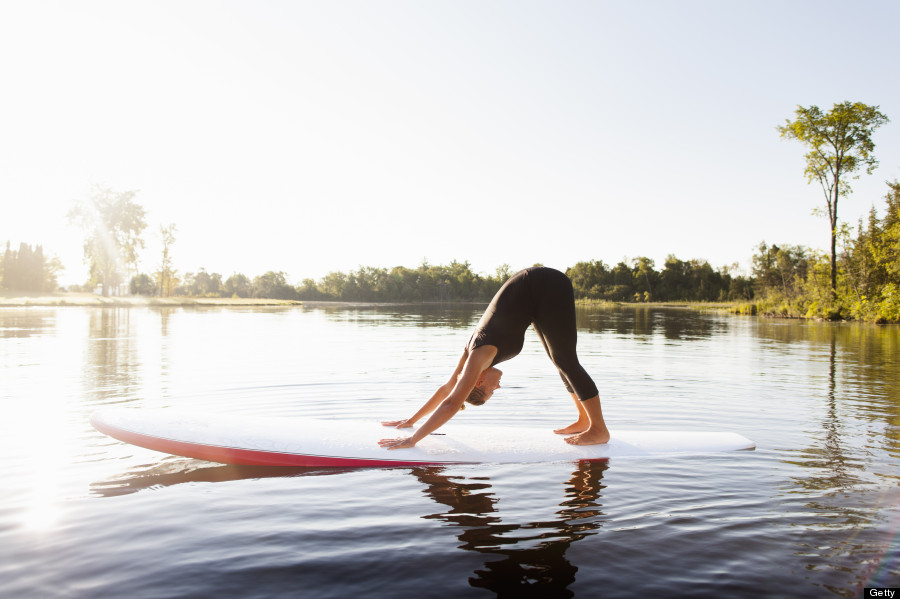 source unknown
This weekend, I did the craziest thing I've ever attempted.
I paddle-boarded with four Holy Yoga instructors.
And I did a little – very little – yoga on that paddle-board.
I fell in once…and let's be honest, it was totally expected. Awkward girl gets fit, here.
Downward dog…pigeon…standing up…that's about all I had the courage to do, but it was enough.
My family is still amazed. There were fish in that water – a big huge neuroses of mine – and they're still talking about that.
But I'm not that girl…the one who is adventurous and tries new things…who goes to yoga classes where she knows no one…who spends the better part of day with women she barely knows…who allows herself to be vulnerable.
I've always been timid and fearful and in control and a rule follower.
That's changing.
Maybe not that rule follower part. That's pretty ingrained and not necessarily a bad thing.
The more I follow this crazy Holy Yoga path the Lord has led me to, the more I'm breaking free of those fears.  For years, I've claimed 2 Timothy 1:7 as my life verse…
For God did not give us a spirit of fear, but of power, of love and of sound mind.
…but I feel like for the first time, I'm truly living it.
Through meeting those other amazing sisters in faith who've answered the same call from the Lord, through time spent in prayer on the water in community and alone, through the encouragement and acceptance I felt, He confirmed and cemented the need to pursue this ministry.
Holy Yoga isn't about perfection.
It's about connection with the Lord…stretching our faith…growing deeper roots…corporate and individual worship….finding freedom.
And I truly cannot wait to be in a position where I can share that with others.